Which is the greatest blessing of the gospel in your life?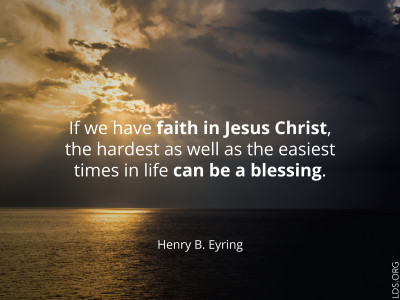 This was the question posed to me by one of our amazing sister missionaries last night at after a tasty meal (#FeedMySheep), and it caused me to really think about the blessings of the Gospel in my life, but what would be the greatest blessing...
When I thought about it, I realized that the greatest blessing I have received from living the gospel is not in my life, it is my life. Everything I have, and everything I am is the direct result of my having lived the various principles of the gospel. It all really started when I was in my early teens, and I would have philosophical and religious discussions with my friend Ben. Ben had a great knowledge of the more esoteric doctrines of the LDS faith, and provided insight into some of the areas of the restored gospel that I had been questioning. As with many things in our lives, however, I can trace the beginnings of my gospel journey to one specific moment, the day in July of 1987 when I met the woman I would marry, and the realization that I needed to be a better man than I was at that moment if I was going to be worthy of her love and eternity.
From that moment on, I started making changes in my life, not just spiritual changes, but also temporal. I started spending less time thinking about the here and now, and spent more time planning for a future life with this amazing woman. I began to prepare myself to serve a full-time mission, to be worthy of temple blessings, and to be the kind of man I knew I could be. I served my mission for two years in Spain, learning both Spanish and Catalan during the course of my time there, and coming to have a greater understanding and love for the people of Spain. When I returned, I married my sweetheart, who had also served a mission to Uruguay (a story for another time), in the Salt Lake City, Utah Temple, for time and all eternity. We started our family, and soon had welcomed three children into our lives. I started working in sales, moved into graphic design, which led me into print production, which transitioned into multimedia design, which became web development, which led to a teaching position, and to our current adventures in Las Vegas. I have traveled all over the United States, Canada, Mexico, and Europe, visiting Switzerland, Portugal, Spain, France, and Greece, all because of the promptings of the Spirit in my life.
When we first moved to Vegas, the bishop of our new ward asked us for a family scripture. I gave them 1 Nephi 2:2-4:
2 And it came to pass that the Lord commanded my father, even in a dream, that he should take his family and depart into the wilderness.

3 And it came to pass that he was obedient unto the word of the Lord, wherefore he did as the Lord commanded him.

4 And it came to pass that he departed into the wilderness. And he left his house, and the land of his inheritance, and his gold, and his silver, and his precious things, and took nothing with him, save it were his family, and provisions, and tents, and departed into the wilderness.
I gave that scripture because it is exactly what happened to our family when it came time to move here to Vegas (the wilderness it is), with Wells Fargo playing the roles of Laban in stealing our possessions. We lost our home, the land of my inheritance (my grandparent's store in Orem) was sold, and I declared bankruptcy (which took all my gold, silver, and precious things), and we even remembered to bring our tents with us when we moved.
In spite of the difficulties we faced in moving to Vegas, I can truly feel what Lehi felt when he said: "But behold, I have obtained a land of promise, in the which things I do rejoice...", and in a couple of years I will get to move to Bountiful where my youngest child will build me a boat. So all is good.
Through it all, the gospel has been the one constant in our lives, whether we are teaching primary, Sunday school, serving in the Young Women's or Young Men's programs, the gospel and church have been there to support us, and the Spirit has been there to guide us. Everything I am, everything I have and possess, everything I know, is a direct result of having lived the principles of the restored gospel. So when I am asked what the greatest gospel blessing is in my life, I have to say that it is my life, the life I have lived, and I would not trade it for anything.